Breaking News
Hilary walloped Cathedral City in the Coachella Valley
CATHEDRAL CITY, Calif. — 
Arcie Mendiola took the first sip of her favorite tequila cocktail about 4 p.m. Sunday during her family birthday celebration. Eight hours later, she was on the roof of her home, surrounded by panicked loved ones, smelling gas from a leaking pipe and praying to be rescued.
As Tropical Storm Hilary swept through Cathedral City, similar terrifying scenes played out up and down Horizon Road — a short, usually tranquil stretch lined with palm trees and rock-and-dirt frontyards able to withstand the scorching desert heat.
Across from the Mendiolas, a family was trapped as its one-story home flooded. Two houses down, terrified elderly residents were stranded in a board-and-care home.
By Monday afternoon, there would be 46 rescues across Cathedral City, just southeast of Palm Springs, including the 14 seniors, mud-caked and bleeding, who were finally escorted to safety from Horizon Road. First responders found themselves grappling with sinkholes, drivers stuck in their cars and mud that made roads nearly impassable and flowed into houses.
"It's obviously been a really trying 48 hours, for our community and for the Coachella Valley as a whole," Ryan Hunt, a spokesperson for the city, said at a news conference Monday. "It was an unprecedented storm for our region."
For the Mendiola family, help came in the form of a construction worker, a Realtor and a new white pickup truck.
::
Mendiola's 56th birthday fell on the day Hilary was forecast to wallop the Coachella Valley. Mendiola's daughters surprised her by decorating the two-story house in purple, her favorite color, and mixing palomas. Her husband grilled ribs.
The family had prepared for the storm, putting out sandbags and towels to keep the deluge outside and having water and flashlights on hand just in case.
They kept the gathering small; only those who lived in the house attended: Mendiola, her husband, two daughters, son-in-law and 2-year-old grandson.
The trouble began around 11 p.m. That's when Dan Ponce, who lives up the street, heard an engine revving outside his home. He looked out a window and spotted two cars that appeared to have crashed into each other. Then he saw mud rising up the tires of his Chevy Equinox, higher and higher until it reached mid-rim.
Tropical Storm Hilary hit Coachella Valley hard Sunday, resulting in flooding that trapped residents in their homes. On Horizon Road, residents sought refuge on their roofs and in their bedrooms.
Nearby, the Mendiola family was cleaning up after the party. Ellisa Mendiola, 22, had already gone up to bed as a heavy rain sounded outside.
She awoke to a loud bang and her sister screaming for help. The house was flooding.
"One moment we're celebrating my mom's birthday, and then the next we're all preparing for a disaster," she said.
Column One
A showcase for compelling storytelling from the Los Angeles Times.
Their fireplace wall had come crashing down, and mud rushed into their house. Within minutes, water covered the first floor. Ellisa's sister, Elianna, stood on a table until her husband came down and carried her on his back to safety upstairs.
On the second floor, the family gathered blankets, baby clothes, diapers, phones, flashlights, heavy jackets and shoes. They went out on the balcony. Ellisa called 911. It was 11:59 p.m.
She told the dispatcher the family was trapped. That water was flooding their home and making escape impossible.
"They just kept saying, 'We're aware of the situation,'" she recalled.
Their main focus was her 2-year-old nephew.
"We were just trying to save the baby," she said. "He can't swim, he can't walk in mud that deep."
As the water kept rising, the family decided to climb onto the roof. They pulled a couch out onto the balcony and propped it up against the house as a makeshift ladder. Ellisa's father and brother-in-law helped push everyone up before scrambling up themselves.
From there, as rain poured down, they watched the mud rise nearly to the top of the 8-foot brick wall in their backyard. They watched the current sweep cars into their home. They called family members to get help, but roads were impassable.
As they huddled on the roof in the darkness, they grew nauseated and dizzy. The culprit was a gas leak. They feared it came from the house.
For more than an hour they waited, desperately hoping someone would save them.
::
Jimmy Laker, a lifelong Cathedral City resident, had just dropped a friend off about 12:30 a.m. when he landed in the mud that coated Date Palm Drive.
The 42-year-old navigated his Chevy Silverado through and told his girlfriend, Cindy Gilissen Smith, there might be people in need of help.
Laker, a construction worker in the Los Angeles area, and Gilissen Smith, who works in real estate, had already spent Sunday doing what they could to help. They had pulled people out who were stuck on Date Palm Drive, stranded by the rising water. They went to another friend's home to shore it up with sandbags.
"Our whole mission was just to go out and help," Laker said. But what they encountered on Horizon Road was like nothing they'd ever seen.
There was an eerie silence as the couple turned onto the street. It was pitch black except for a few porch lights and the beams of Laker's headlights illuminating parked cars caked in mud.
Along the road, the couple spotted an elderly woman curled up outside her front door, her head down in her arms. Gilissen Smith jumped down and helped the woman into the truck.
From their roof, the Mendiola family used a phone and a flashlight to signal for help. Laker told them he would be back for them. He needed to get the woman medical assistance first, he said.
He gave them his phone number. "I'll be back if I can," he said before heading to a nearby Fire Department command post with the elderly woman.
The department was getting ready to check on residents. Fire officials initially asked Laker to help responders get onto the street, he said. They later told him to go home and not risk messing up his truck anymore.
Laker thought about the Mendiola family. He'd promised he'd go back. An official told him not to worry, that firefighters would soon rescue them.
As Laker started to pull away, he got a text from Ellisa: "Can you come back and get us please if they let you."
It was 12:48 a.m. Laker took his chances a second time.
When Ellisa spotted the truck returning, relief swept over her. But now they had to figure out how to reach it. The first floor of their house was flooded, leaving no exit route that way.
A white SUV that had floated into their home was tall enough to give them a landing point. They decided to jump.
Once they made their way down, they put the 2-year-old into Gilissen Smith's arms. The rest of the family waded through mud that felt like quicksand.
Ellisa, who is 5 feet 3, said the mud came up to her stomach. Once inside the truck, Laker drove them to the end of the street, where Ellisa's aunt and uncle waited to take them to their home.
"Jimmy and Cindy were brave enough to go in their personal car and kept driving up and down the street to take people," Ellisa said. "If it wasn't for them, we probably wouldn't have gotten out until who knows how long."
::
On Monday morning, a bright sun beamed down on the wreckage of Horizon Road. Residents pulled out lawn chairs at the corner of Horizon and Panorama roads and sat there to warn drivers not to try to get through.
"Just a resident on Gilligan's Island here," joked 57-year-old Jay Costello as he surveyed the wreckage on the street where his family had built their home 27 years ago.
At nearby Palm Springs Airport, 3.23 inches of rain were recorded during the storm. The average annual rainfall at the airport is 4.61.
"They got 70% of their average annual rainfall, all within essentially one 24-hour period," said Mark Moede, a National Weather Service meteorologist.
That morning, Ellisa's father, Ronald, waded through knee-high mud to get home. He climbed in through a broken window and saw that the upstairs was fine, but the first floor destroyed.
"We're losing sleep just thinking about how our house is gone," Ellisa said. "Everyone's still in shock to see our house that we've had for almost 20 years just be destroyed in a matter of two minutes."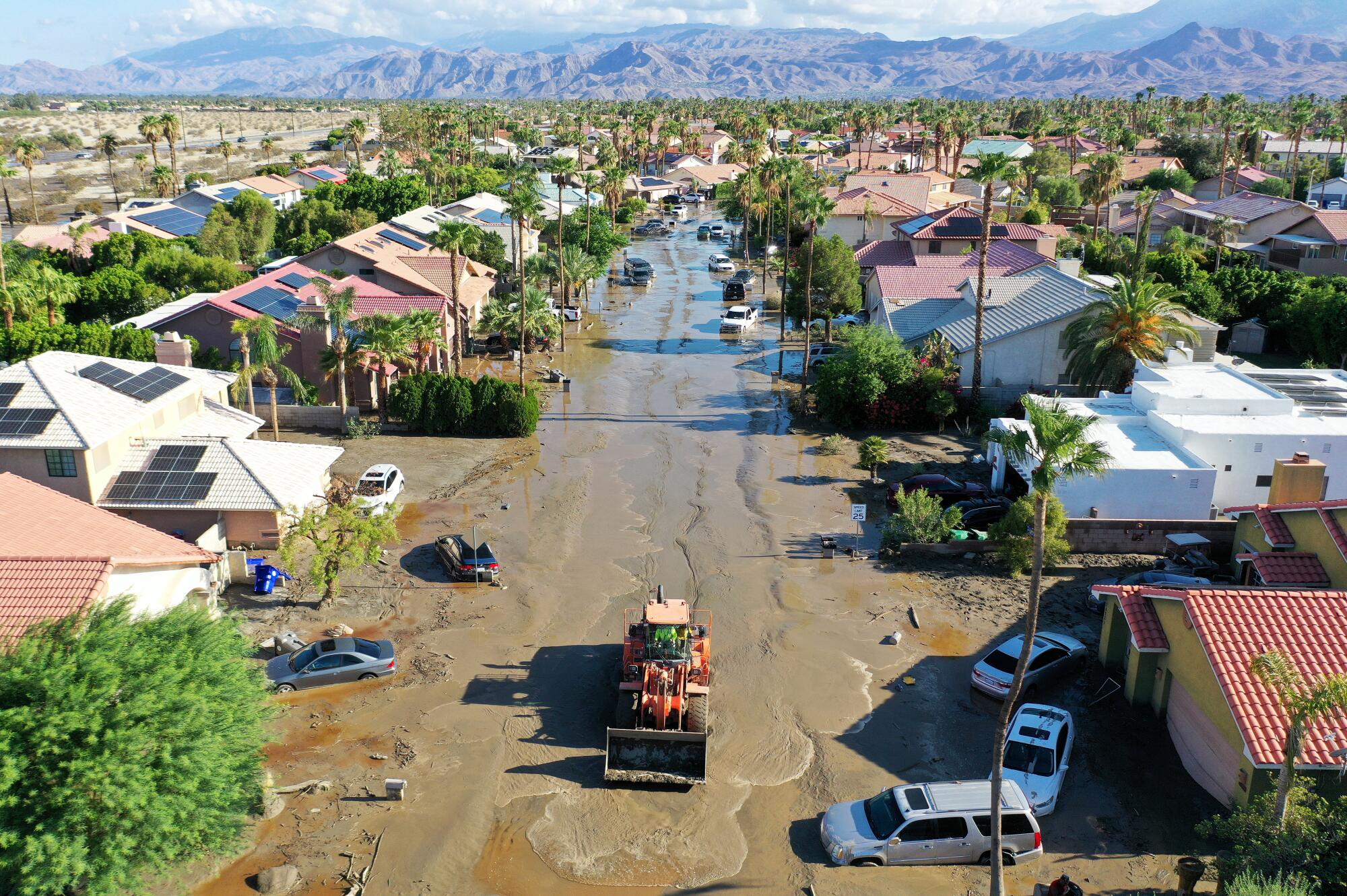 Throughout Monday, people were still being rescued from Horizon Road. A truck tried and failed to get through to the Affinity Senior Living home. Six of the 14 people trapped there were unable to walk. It was 10 a.m.
That afternoon, the Cathedral City Fire Department used earthmovers, loaded up first responders in the scoop and took them to the board-and-care facility. Once there, rescuers put safety vests and helmets on residents and loaded them up like precious cargo.
After the heavy equipment reached Panorama Road, residents were helped into a waiting ambulance.
With the rain from Tropical Storm Hilary making the roads inaccessible, Cathedral City firefighters use an earthmover to rescue residents of a senior living facility.
"Put your arm across the chest and give yourself a hug," a rescuer instructed an elderly man who had mud streaked through his white hair. The man's knee was scraped and bleeding. But he seemed upbeat and waved to news cameras from his stretcher.
When the rescue effort ended, Fire Chief Michael Contreras said his city has begun moving from rescue to recovery. The Mendiola family also must figure out what comes next.
All they can do, Ellisa said, is pick up the pieces.