Jordan has warned the Middle East is at the edge of an "abyss", as diplomatic activity intensifies to prevent the Israel-Hamas war from spiralling into a regional conflict.
King Abdullah of Jordan delivered his warning — together with a call for humanitarian assistance to the Gaza Strip and a refusal to take in Palestinian refugees who might never return home — ahead of a summit with US president Joe Biden on Wednesday.
"The whole region is on the brink of falling into the abyss," the king told a press conference in Berlin with Chancellor Olaf Scholz, in comments translated by the German government. "The threat that this conflict spreads is real; the costs are too high for everyone."
Jordan, which borders Israel and the occupied West Bank, has long been concerned that it could be destabilised by a massive influx of Palestinians.
King Abdullah was speaking a day after Iran warned that the Islamist militants it backs could resort to "pre-emptive" attacks against Israel and as the Israeli military traded fire with Tehran's ally Hizbollah, the south Lebanon-based militia.
He said admitting refugees was a "red line" for Jordan and for Egypt, which borders the Gaza Strip, the Hamas-controlled territory Israel is bombarding ahead of a widely expected ground invasion in response to the militant group's deadly attack this month.
"No refugees into Jordan and no refugees into Egypt either," the king added. "That's a situation that must be dealt with inside Gaza and the West Bank and the burden shouldn't be borne on others' shoulders."
Wednesday's summit in Amman will also include Egyptian president Abdel Fattah al-Sisi and Mahmoud Abbas, the president of the Palestinian Authority, while Biden will first travel to Israel to show solidarity and try to influence the conduct of the war.
The Pentagon said on Tuesday that Lloyd Austin, defence secretary, had put a further 2,000 troops on a "prepare to deploy order . . . to respond quickly to the evolving security environment in the Middle East".
Biden has already deployed two aircraft carrier strike groups to the region to deter Iran and Hizbollah from escalating the war.
Tzachi Hanegbi, Israel's national security adviser, said the US deployments made clear to the country's enemies that, "if they think about joining the attack against Israeli civilians, there will be an American intervention".
He singled out Biden's visit as the first such trip by a US president to Israel during a war "to be with us during our difficult times".
In a further signal of international concern, UN secretary-general António Guterres is also due to travel to Egypt on Wednesday, a senior UN official said.
The Rafah crossing between southern Gaza and Egypt — the prospective conduit for both refugees and humanitarian aid — remains closed, despite international efforts to reopen it.
Some foreign officials have said Israel, which has ordered almost half of Gaza's population to move to the south of the enclave, is prepared to let people leave the territory for Egypt, but is resisting the entry of humanitarian aid.
By contrast, Egypt has said it would allow humanitarian aid into Gaza while insisting it would only permit people with dual citizenship into its territory.
Palestinian authorities said on Tuesday that Israeli air strikes overnight had killed more than 70 people in Khan Younis, in southern Gaza.
"They are still searching for people under the rubble," said Youssef al-Aqqad, director of the European hospital in the town. "We think we will have to start making decisions as to which of the injured we should provide quick services to and which to leave."
He added that the bombing had been very close to his hospital.
Amid fears of a humanitarian crisis in Gaza and a risk that the war could spread, Hakan Fidan, Turkey's foreign minister, said Egypt was also planning to host a summit of regional leaders on Saturday to discuss the conflict.
US secretary of state Antony Blinken said that, at Washington's request, the US and Israel had agreed to "develop a plan" to get aid to Gaza residents and potentially create "areas to help keep civilians out of harm's way".
"It is critical that aid begin flowing into Gaza as soon as possible," he said.
The US, which estimates that 500 to 600 of its nationals are trapped in the enclave, is also seeking an exit for third-country passport holders out of Gaza.
Gaza has been without mains electricity for six days and is running short on water after Israel cut supplies following the Hamas attacks on October 7 that killed more than 1,400 Israelis.
The Israeli military says Hamas has also taken 199 hostages, and labels a video released by the group of one of the abductees as "psychological warfare, Isis playbook material". The video shows Mia Shem, a 21-year-old Israeli-French hostage.
Palestinian health officials say Israel's bombardment of Gaza has killed more than 2,800 people and that there are reports of more than 1,000 people missing in the rubble.
The UN has said that the more than 600,000 people who have fled to the south of the enclave are "in increasingly dire conditions".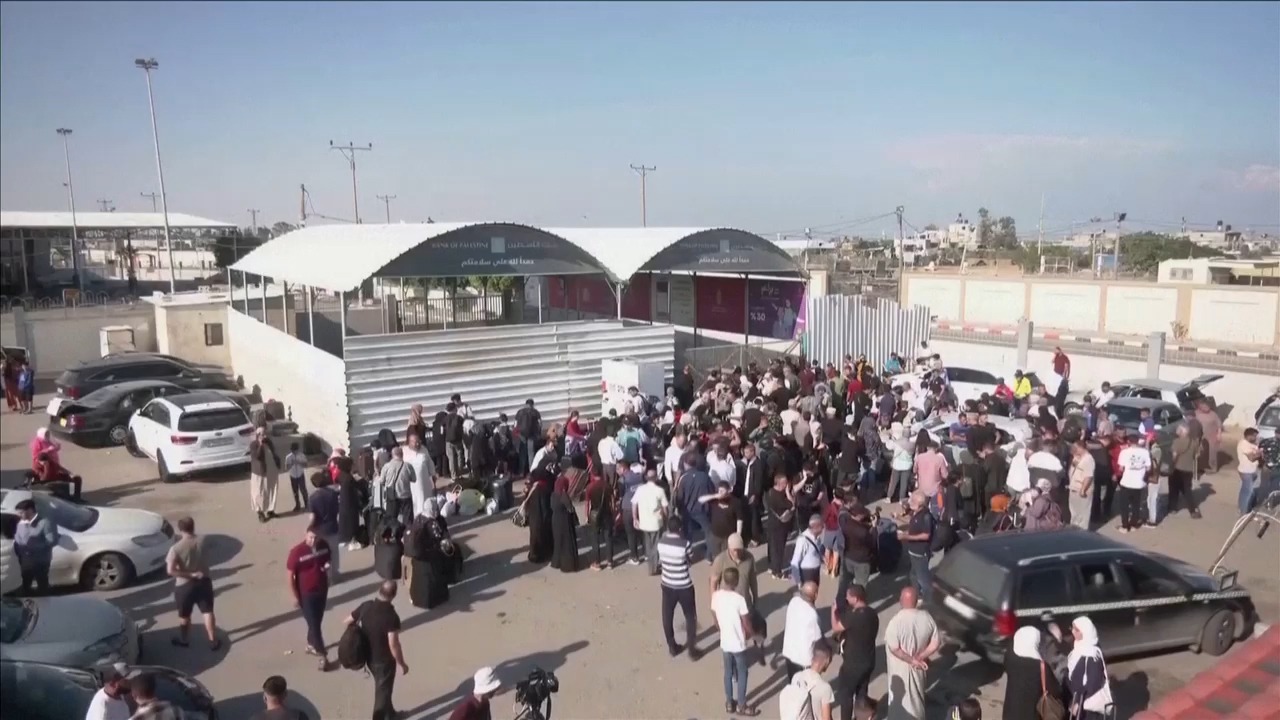 The Israeli military said on Tuesday it was continuing operations targeting Hamas leaders and operatives in Gaza and was active on the border with Lebanon, responding to missile attacks by Hizbollah and an attempt to plant explosive devices on a border wall.
Jonathan Conricus, an Israeli Defense Forces spokesperson, said the IDF was continuing to "prepare ourselves for enhanced military operations in Gaza".
He added: "The aim of this war is to completely dismantle Hamas and its military capabilities . . . and to change the situation in southern Israel . . . for generations."
Additional reporting by Neri Zilber, Donato Paolo Mancini, Raya Jalabi and Mai Khaled