Breaking News
Longtime 'Price Is Right' host Bob Barker dies at 99 : NPR
Game show host Bob Barker has died at the age of 99.
"It is with profound sadness that we announce that the World's Greatest MC who ever lived, Bob Barker has left us," publicist Roger Neal said in a statement.
Barker, whose career spanned more than eight decades, was best known as the longtime host of The Price Is Right on CBS. In 2002, he broke Johnny Carson's record for continuous performances on the same network TV show.
Barker began hosting The Price is Right when Richard Nixon was in the White House. He remained with the show for 35 years before retiring in 2007. Even at the end of his career, the then-80-something host was still taping five shows a week.
At a press conference held on his last day, Barker said as much as he looked forward to retirement, getting ready to tape that final show wasn't easy.
"I really had myself worked up in an emotional state," he said, "and I thought, I've got to go over there and do this show — straighten yourself out, Barker!"
Born in 1923, Barker grew up on the Rosebud Indian Reservation in South Dakota, where his mother was a schoolteacher. He never thought his future career would require cake makeup, the glare of camera lights or games like Plinko and Cliffhanger.
"I wanted to pitch for the Saint Louis Cardinals. That was my dream," Barker said. "And the only thing that prevented it was a total lack of talent."
Instead, Barker pitched in with the World War II effort. He served as a Navy fighter pilot, although he never saw combat. After the war, he returned to finish college and took a job hosting a radio show in Los Angeles. That eventually launched his career, and his next job was hosting TV's Truth or Consequences.
That gig lasted for 18 years, twice the average lifespan for most TV stars — and for Barker, it was just a warm-up.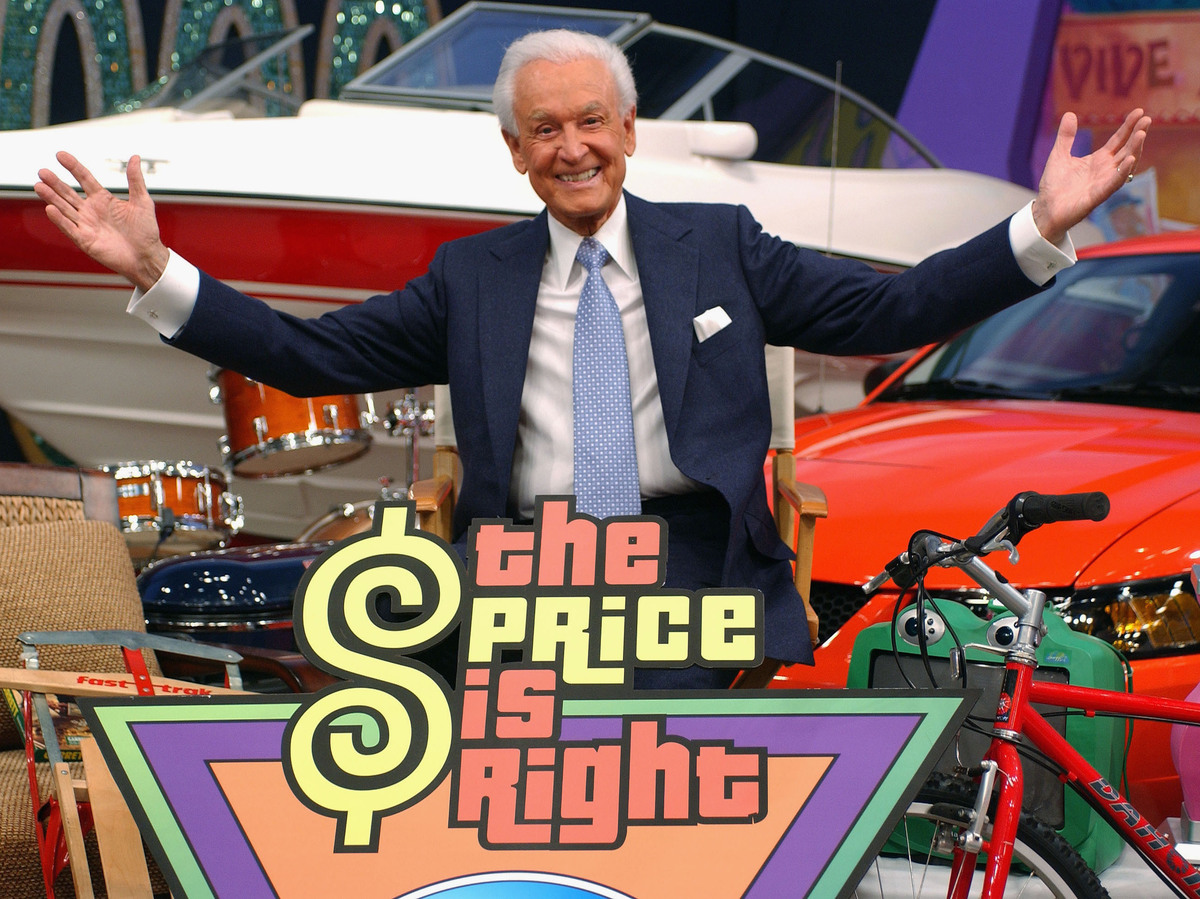 Amanda Edwards/Getty Images
It was his role on The Price Is Right that cemented his fame. From 1972 on, Barker's face was a familiar presence in the living rooms of everyone from little old ladies, to kids home sick from school. He even had a following among college students who claimed to set class schedules around the show.
The show's simple format — average people trying to guess the price of common household products, from Windex to washing machines — appealed to fans, and the show didn't change much over four decades. Nor did the host, except once: when Barker stopped dying his hair. Seemingly overnight, he went from dark hair to white. It's one of the most talked-about events in Price Is Right history.
"The audience just gasped," Barker said. "And I got a card from a man in the Midwest. He said, 'Bob, you must have had one hell of a night!' "
As a pop icon, Barker landed cameo appearances on TV shows like Futurama and Family Guy — as well as a few movie roles. He played himself in the 1996 movie Happy Gilmore. In one scene, Barker, a karate black belt in real life, teaches star Adam Sandler a memorable lesson by knocking him out in a golf course brawl (video contains cursing).
"They were talking about making Happy Gilmore 2, and Adam's doctor said that he didn't think Adam could take another beating like I gave him," Barker once said.
In 1994, a former Price is Right model, Dian Parkinson, sued Barker for sexual harassment. The host claimed what he described as an "affair" was consensual and Parkinson eventually dropped the lawsuit.
Barker used his fame to promote another great passion, animal rights. In 1988, after 21 years hosting the Miss USA and Miss Universe Pageants, Barker resigned when producers refused to eliminate fur coats from prize packages.
He established and endowed a foundation funding spaying and neutering services across the U.S., and in his later years, Barker donated large sums to various law schools to promote the study of animal rights. Each day, he ended The Price Is Right with the same words: "This is Bob Barker, reminding you: Help control the pet population. Have your pet spayed or neutered."
Barker earned more than a dozen Emmys and was twice named TV's "Most Durable Performer" by Guinness World Records.
The Saint Louis Cardinals never knew what they missed.