Breaking News
Marilyn Monroe's Brentwood home is being demolished
Marilyn Monroe fans and Brentwood residents are in mourning over the potential demise of the icon's final residence, and while a former Brentwood Homeowners Assn. member hopes a white knight will show up to save the home, the internet is mistakenly lashing out at a Monroe look-alike.
The Spanish Colonial relic of bygone Hollywood is set to be demolished by its current owner, who bought the 2,900-square-foot hacienda for $8.35 million. As of Tuesday, an L.A. Department of Building and Safety permit showed that, although officials hadn't yet granted a formal permit, the early stages of the process were underway.
The residence, built in 1929, was the only home the starlet owned independently. Monroe bought the property in the early 1960s after the end of her third marriage, to playwright Arthur Miller, for $75,000.
Set behind gates at the end of a cul-de-sac, the single-story home has four bedrooms and three bathrooms, The Times wrote when the house changed hands in 2017. At that time, common areas included a formal living room with a Mexican-tile-lined fireplace, a family room and an office. Saltillo tile floors and vaulted wood-beamed ceilings were among the interior details.
Outdoors, lush lawns surrounded a brick patio and a kidney-shaped swimming pool. Mature trees, a guest house and a small citrus grove filled out the half-acre grounds. The Latin phrase "Cursum Perficio," which translates to "My journey ends here," adorned tiles on the front porch — a foreboding inscription after Monroe was found dead of an apparent barbiturate overdose in her bedroom in 1962. She was 36.
When the New York Post first dropped the news that the "Some Like It Hot" star's former home was facing demolition, fans wanted answers. They wanted to ask the owner responsible, "How dare you?" and beg, "Please don't demolish Marilyn's home." And they did. But they had the wrong person. Comments were misdirected at a Monroe look-alike and influencer who resides in the Runyon Canyon mansion where Monroe and her second husband, New York Yankees star Joe DiMaggio, lived in 1953.
Jasmine Chiswell appeared on "The Tamron Hall Show" in 2021 and told the host that she and her husband, music producer Maverick McNeilly, had driven past the Brentwood residence to get a look at Monroe's former home but saw demolition signs years ago, although any previous efforts to demolish the home were not widely reported. Chiswell was so distraught that her husband researched other homes Monroe had lived in and happened upon the Runyon Canyon mansion, which was listed for sale and had an open house the next day. "We completely fell in love with it, and it's been a dream ever since," Chiswell told Hall.
On Chiswell's Instagram page, angry comments flooded her posts. "Unfollowing. How dare you take [Marilyn Monroe's] whole persona and house to make money and then tear down the one thing she ever owned," read one of the replies.
"Damn. Demolishing a piece of history, if this is true I am also unfollowing. You can not be a marilyn fan then tear her house down for new aesthetics — just MOVE," reads another.
For the record:
1:46 p.m. Sept. 7, 2023An earlier version of this story misidentified the owner of Marilyn Monroe's former home and misstated the purchase price. The property was purchased for $7.25 million in 2017 by Glory of the Snow LLC.
Earlier this year, the owners of the Brentwood residence were listed as Glory of the Snow LLC, managed by Emerald Lake hedge fund manager Dan Lukas and his wife Anne Jarmain, who did not respond to The Times' request for comment. In July, Glory of the Snow LLC sold the property to Glory of the Snow Trust for $8.35 million. The Glory of the Snow Trust's trustee is named as Andrew Sahure.
It's unclear why Sahure wants to tear it down. Perhaps it's the tourist activity? The house is still a hot spot for tourists hoping to catch a glimpse of the place where Monroe took her final breath, and Hollywood tours still take groups down the cul-de-sac to snap pictures.
Or perhaps there are more otherworldly reasons? At the Runyon Canyon home, Chiswell told Hall, she and her husband heard footsteps every night. "I don't want to sound like a crazy person. I've always been a big skeptic about that stuff. But ever since we moved into this house, things definitely changed for me. Things started to feel really weird, and unexplainable things have happened here."
Rodney Liber, a former movie producer and Brentwood HOA member for eight years, told The Times that when he saw the news that Monroe's home had entered the initial stages leading toward demolition, he brought it up to the association. "I was hoping somebody could be a white knight and save it," he told The Times. "But you know, I don't know what the chances of that are. It's sort of sad because it's one of the most famous houses in the world.
"I do know that people tend to believe here that you should be able to do what you want with your house," Liber continued. "I mean, obviously this is a very, very special circumstance, if not the most special circumstance, and the Brentwood Homeowners Assn. tries to sort of keep people within the rules. We will handle neighbor complaints about somebody who's circumventing the law cutting down trees, building more than they're allowed to, things like that … but when you have what's called the by right permit, and you're building exactly what you're allowed to without seeking any exemption … then there's not much to argue about."
A spokesperson for the Los Angeles Department of City Planning told The Times that the property had not been nominated for landmark status in the past, but a 2013 evaluation of the home identified it as "potentially significant for its association with Marilyn Monroe." The eligibility standards list "more research needed," and the evaluation notes state that the Brentwood home was the "final home of screen actress Marilyn Monroe. Monroe purchased this house in March 1962, the only home she ever owned; she named the residence 'Cursum Perficio.' She died of an overdose of sleeping pills in this location in August of the same year. The property is not fully visible from the public right-of-way; therefore, the evaluation could not be completed."
Shortly before Monroe's death, the star invited Life magazine into her Brentwood home. She walked from room to room, lovingly pointing out where she planned to place each couch, table and lamp that had not yet arrived. "Anybody who likes my house, I am sure I will get along with," she said. Monroe's home was still filled with unpacked moving boxes at the time of her death, just six months after she purchased the only home she ever owned.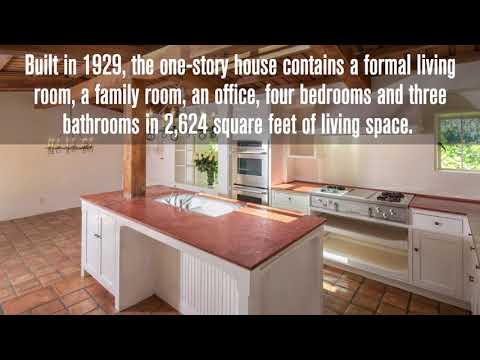 The Brentwood home once owned by Marilyn Monroe has sold for $7.25 million, or $325,000 above the asking price.
Former Times staff writer Neal J. Leitereg contributed to this report.