Breaking News
Palestinians are shaken by deadly attacks in the West Bank : NPR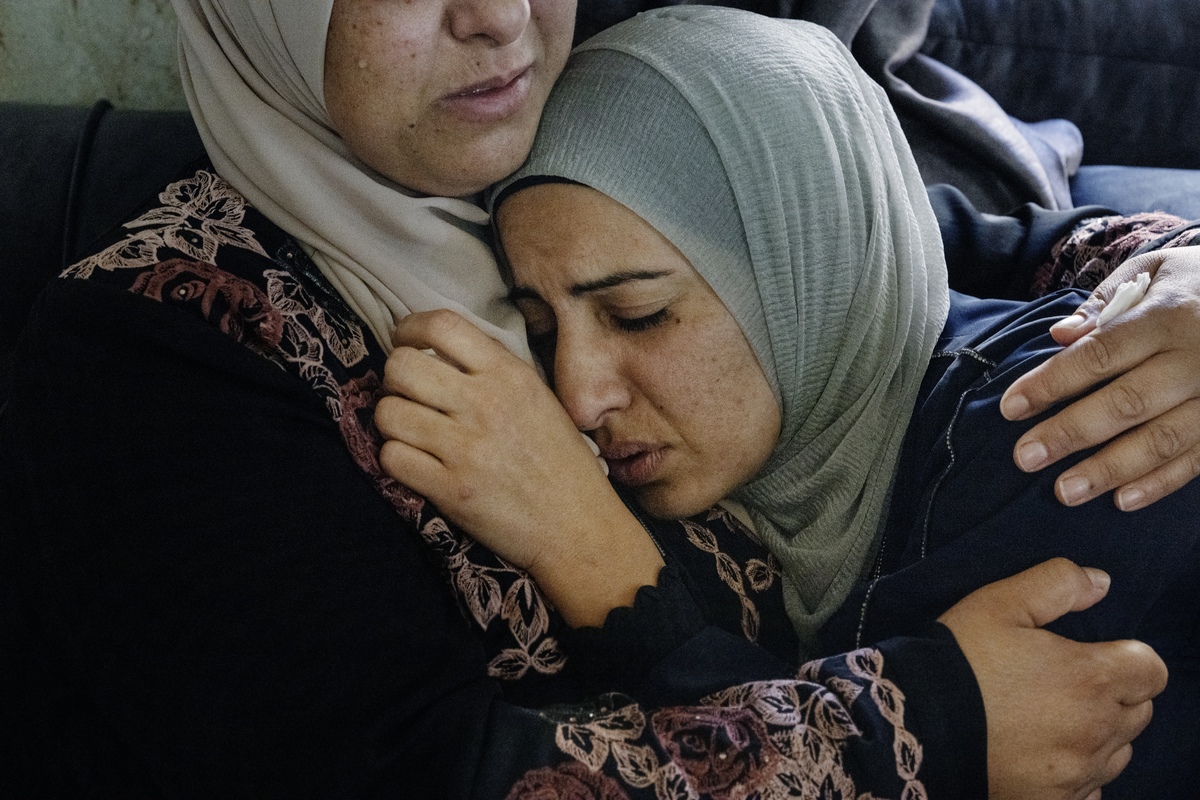 Tanya Habjouqa/NOOR for NPR
QUSRA – Palestinians in the West Bank and inside Israel are wondering how much harder their lives may become as they watch the punishing Israeli airstrikes raining down on Gaza.
There's a total siege of basic goods, hospitals are running out of fuel, people are running out of food and more than 4,100 Palestinians have been killed, over 1,600 of them children.
The Secretary-General of the United Nations Antonio Guterres has said the Hamas attack – that killed 1,400 Israelis and saw Hamas take some 200 hostages – does not excuse this "collective punishment." He has called for an immediate humanitarian ceasefire and demanded Hamas release the hostages. Two were released today.
But the bloodshed is not contained in southern Israel and Gaza.
Tanya Habjouqa / NOOR for NPR
Beyond the frontlines of this war between Israel and Hamas, Palestinians inside Israel and the occupied Palestinian West Bank say their lives and their lands are more in danger now than ever before.
In the days following the Hamas attack, the worst killing of civilians in Israel's history, at least 74 Palestinians have been killed in the West Bank, according to the Palestinian Health Ministry. Many in settler violence according to witnesses and human rights groups.
The Israeli human rights group B'tselem has been documenting some of the attacks and sharing videos online.
In one, an Israeli settler, accompanied by an Israeli soldier, shoots a man at point blank range.
Tanya Habjouqa/NOOR for NPR
The worst of these attacks so far were in the Palestinian village of Qusra — where, at first, four people were killed. Then, when the villagers tried to mourn their dead in a funeral procession, witnesses said armed settlers lay in wait and shot and killed a father and son.
It started last Tuesday when armed settlers from the neighboring settlement of Esh Kodesh came into this Palestinian village in the northern West Bank and attacked a house, witnesses said.
A video shows masked armed men hurling rocks at the windows of the home on the edge of the village. A mother and her young children were inside alone.
A call went out for the young men of the village to rush to the house and help. In a grove of trees they came under fire and three were killed. Later that day, witnesses in this village said, the Israeli military came into Qusra and shot another of their residents.
Now, images of the dead are plastered everywhere. They're affixed to cars and on the walls of homes and offices. The backdrop of these posters are Palestinian flags and printed at the bottom of the posters are the words "martyr" and "killed by the bullets of settlers."
The Mayor of Qusra, Hani Awda Abu Alaa, said residents here are living in terror.
"The attacks on Qusra are ongoing and are on a daily basis," he told NPR's Morning Edition.
He points to the walls of his office covered in pictures of violence by Israeli settlers. A damaged mosque. Burned down olive groves. A man killed.
"Wherever you look here, it's attacks by Israeli soldiers and settlers, the worst of which was the one we had a few days ago," he said.
The mayor said even their funerals are not safe. He said he worked with Israeli authorities that control this area to make sure they could have safe passage on the road they'd use to mourn the first four men that were killed. But they found settlers and soldiers in their path, he said.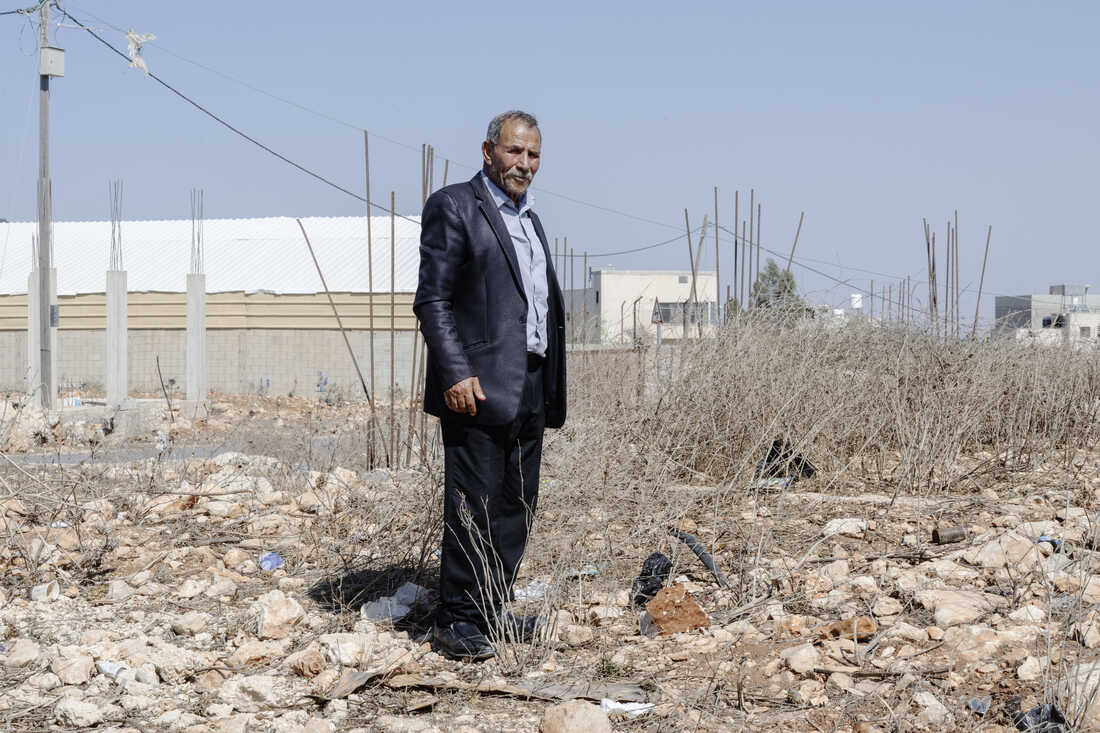 Tanya Habjouqa / NOOR for NPR
"It was a trap," he said. "They had posted on their social media that we will take revenge. These people are violent all the time against the people of Qusra and the neighboring villages. But the war empowered them."
Under the cover of the war in Gaza and rocket fire on Israel, there has been a significant increase in settler violence across the occupied West Bank against Palestinians, according to researcher Dror Etkes of the Israeli Human Rights Group B'Tselem, who has studied Israeli land policies around settlements for decades.
"The entire politics of this place is constructed on fear and racism, this is how this place is constructed," he said. Etkes added that though it is too early for exact figures on how much violence has increased, "I don't think that I would be wrong if I would say that in the last week, we have seen increase of hundreds of percents."
For these attacks, there appears to be no accountability.
There've been no arrests in connection with the six killings in Qusra, according to the Israeli police. The incidents are under investigation. That seems to be the case for all the attacks since the war began. A lawyer who represents settlers accused of violence told NPR that there have been many shootings on Palestinians since Oct. 7th and not one arrest.
In response to a query to the Israeli military on whether one of their soldiers killed a Palestinian in Qusra, the military said it was checking but didn't respond with further information.
Meanwhile, in Qusra they mourn.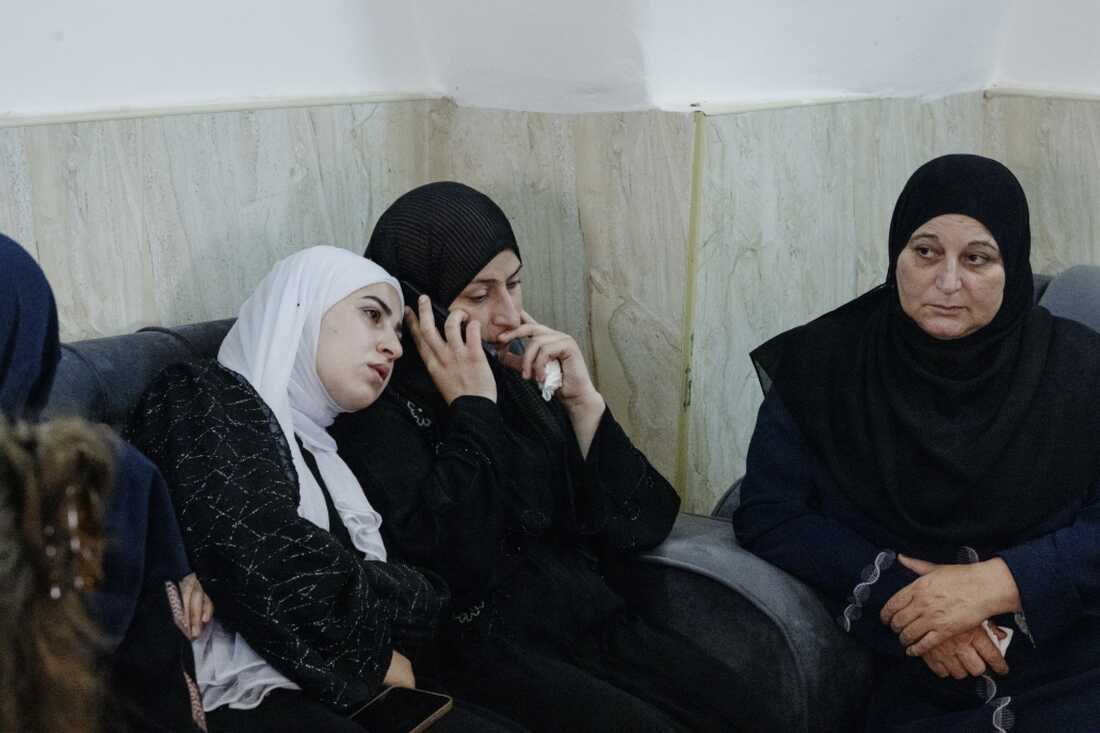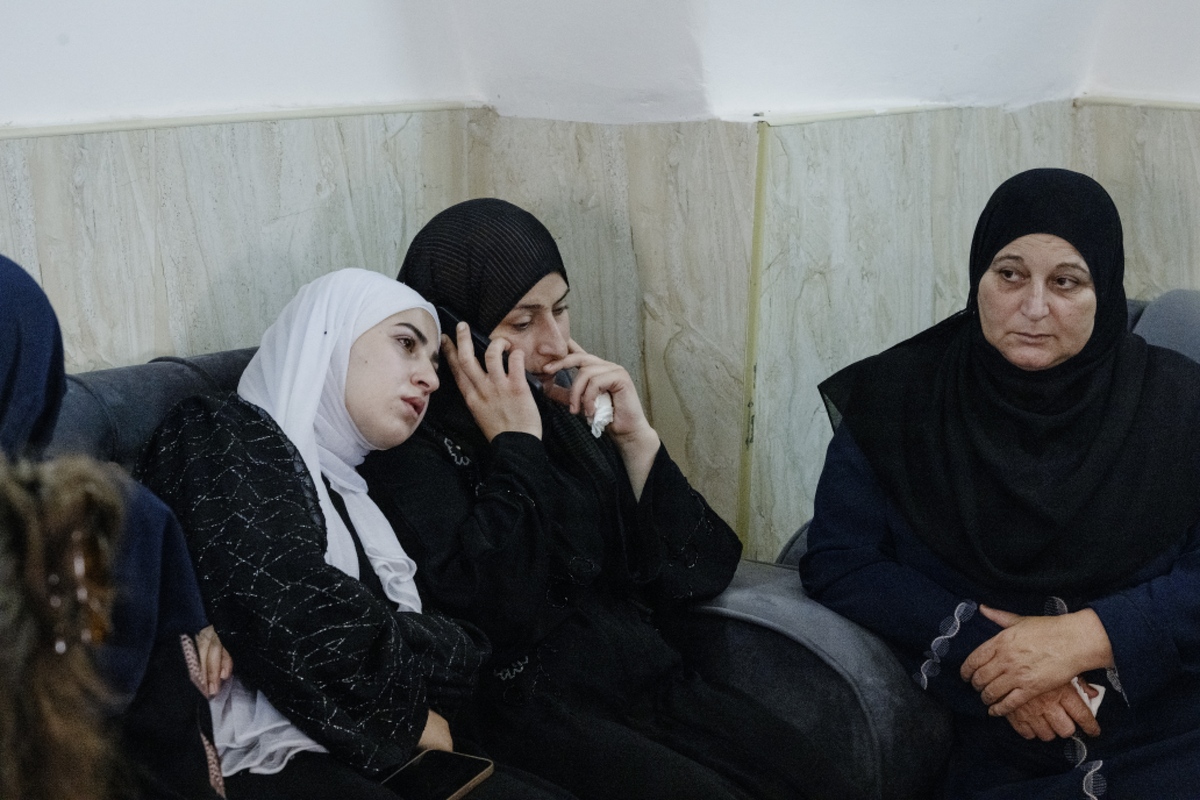 Tanya Habjouqa / NOOR for NPR
At the gathering hall in the center of the village, women come to pay their respects to the family members of the dead. They sit side-by-side on couches, pillows and plastic chairs, crying as they pass around and kiss posters of the men who were killed.
Hassan Mohanned Abu Sarour was among the young men who heeded the call to help when the armed settlers attacked. The 21-year-old was shot. His mother sits quietly in the hall, her aunt and cousin drape their arms around her protectively.
She can't speak in the midst of her grief, so her cousin Hanan Awda speaks on her behalf.
"He was helping his father to save money in order to build a small house," she said. "He was a polite kid."
The goal of this violence she said is to make it untenable for Palestinians to stay on their land. That depopulation has already happened in other places. In at least two villages, Al-Qanub and Wadi Al-Sik, there are no Palestinians left because of violence by Israeli settlers.
"They want to evacuate us from our own lands. They say these lands are ours, not yours," Awda said.
The settlements are illegal, with the U.N. Security Council saying they violate international law. They're also a detriment to any future peace. The Oslo Accords in the 1990s raised expectations among Palestinians that the West Bank along with Jerusalem would be part of their future state. Today, though, Israel maintains authority in the West Bank.
The road from Jerusalem to Qusra shows how far beyond reach a two-state solution seems to be. Palestinian villages dot the horizon alongside Israeli settlements that are rapidly expanding.
Billboards are erected on the main highway advertising real estate projects for new and cheaper housing for Israelis. The settlement expansion has been encouraged by the Israeli government.
The recent surge in violence amid the growth of settlements has dimmed Mayor Abu Ala's sense of hope.
Tanya Habjouqa / NOOR for NPR
"I see the future as a bleak future. I see it as a black future," he said, adding that "we are not against the Jews. We are against the extremism of the settlers encouraged by government officials."
At the limits of Abu Alaa's village he points to empty land. A local businessman who planned to erect a building has abandoned the project. The farmers who tended chickens here are also gone, afraid of settler violence. He points to the hilltop across the way, to three settlements and an Israeli military outpost. There, he said, is where settlers come from to attack them.
"Their intention is to separate us from the villages and cities in the West Bank," Abu Alaa said. "They've cut us off from the south, they've cut us off from Ramallah."
Nearby the young men of Qusra have tried to block the road with stones to stop would-be attackers.
For the mayor, that separation and the pressure to abandon these lands echo what's unfolded in Gaza –- where Palestinians have lived under a 16-year blockade implemented by Israel and Egypt.
"These people in Gaza have been under siege for so long and have been killed in such a way, this is why the war took place," Abu Alaa said. "If our situation continues here with settler attacks, the same thing will happen. People will start feeling the same way as Gaza."
It's not something he wants or agrees with.
"The more aggressiveness on the one side, the more the aggressiveness from the other side," he said. "I address the Israeli people and say enough killings on both sides."
Tanya Habjouqa / NOOR for NPR
NPR's Ari Shapiro met with a settler from the neighboring settlement of Esh Kodesh, which is where the villagers of Qusra say the attackers came from.
With an M16 hanging at his waist and a Glock on him, Nati Romhas lived in the area since the late 90s and said he helped establish a few of the new Israeli settlements in the area. Rom believes life in the occupied West Bank is a battle and hopes other Israelis are coming around to his view.
"Unfortunately, in the last years, because of the propaganda and progressive things, like, disarm, so many of the villagers were disarmed," he told Shapiro. "Now we are working very hard to solve this and to give guns to the people, to civilian groups."
The future Rom aspires to is one that doesn't include Palestinians.
"The future is that we will be able to eliminate the snake," Rom said. "They all want to kill us, some of them telling it straight away, and some of them keep it to themselves."
Rom denies that settlers from Esh Kodesh fatally shot any villagers in Qusra. Asked if there are any good people in the village, Rom said, if so, they need to immediately evacuate.
Though Nati is more militant than other settlers, the most violent wing of the settler community is "not a small group," said Etkes. And many across the spectrum do see their presence in the occupied West Bank as part of an existential struggle.
Tanya Habjouqa / NOOR for NPR
In a settlement called Eli at the top of a hill surrounded by olive groves, husband and wife Gedaliah and Elisheva Blum are convinced Israelis and Palestinians are locked in a battle that proves they cannot live side-by-side.
"I don't think it's a battle over land. I think it's a battle over culture. It's a battle over ideologies," said Gedaliah, who wonders "at what point do we say we can't live with these people?"
But Gedaliah is certain of one thing. There's no going back to the way things were.
"The way I see it is that the lion has been sleeping," she said, referring to Israel. "It's just gotten woken up."